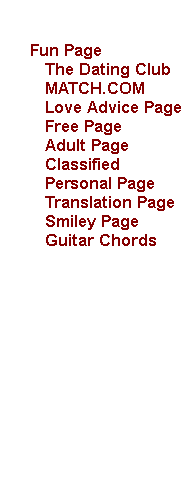 What is DatingClub? It is a private online dating club where people meet, connect and just plain have fun. Our proven search methods have made endless matches, and our innovative services provide you with the perfect resources to enjoy non-stop online dating action! We invite you to enjoy the benefits of our club and join the over 1,000,000 people who have already used our services! You can join the club now, with a FREE TRIAL for unlimited time!

Join the Free Trial now!!! What is your recognition factor on the net? Very big! Over 1000 webmasters, who strongly believe in our site's potential, have created links from their sites to ours. Moreover, we were recently chosen as the exclusive personals content provider for LookSmart - one of the largest portal sites in the world. We also formed many other strategic partnerships relevant to our site including: Bomis/ a Top 100 site and CityConnection/ a network of 35 U.S. regional sites. In addition, we are currently running major promotional campaigns with Infoseek, Metacrawler, Infospace and AltaVista.


For more information just click on the banner.

*** In need of love today . . .join the Dating Club***